Brass Earthing Parts
- BEP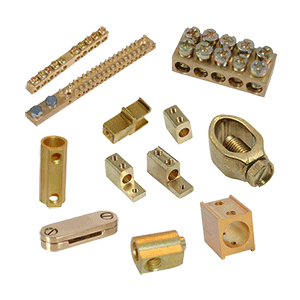 Brass Earthing Parts:-
Classification
Brass Earthing Terminal.

Brass Earth Block.

Brass Rod to Tape Clamp.
Brass Rod to Cable Clamp.
Brass Square Tape Clamp.
Material
Free Cutting Brass IS 319 Type I or BS 249 Type I.
Any Special Non Ferrous Material Grade.
Brass as per RoHS Directive.
Thread
ISO Metric (MM Threads)
BA, BSW (Inches), UNC, UNF
Any as per customize Specification
Size
Circumference Diameter 1MM to 800MM with length of any size.
Apart form standard Earthing and Wiring Accessories, we develop customize Earthing and Wiring Accessories as per technical drawing or other relevant data.
Finish
Natural
Nickle Plated
Silver Plated
Tin Plated
As per customer Specification
Copyright © Dhruv Metal Products.